Jurassic World: Dominion Dominates Fandom Wikis - The Loop
Play Sound

lipu ni li sin ala.
lipu Wikipesija li tawa tan ma Fandom tawa ma sin. o lukin e lipu ni lon ma sin.

This is an old article.
lipu Wikipesija has moved from Fandom to a new site. The current version of this article can be found here on the new site.
ma Alan li ma lon ma Elopa. toki Alan la nimi ona li Éire.
tenpo ni la, ma Alan li tu. ma lili tu tu tu (6) lon lete. tenpo ni la ma Piten li lawa e ma lete.
ma Alan seli li kepeken e nasin pi lawa jan en nasin pi wawa jan. ma Alan lete kepeken e nasin pi wawa jan. taso, tenpo ni la ona li kepeken ala e nasin pi lawa jan.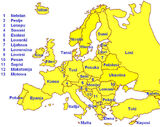 ma Alan · ma Antola · ma Elena · ma Epanja · ma Esi · ma Isilan · ma Italija · ma Kanse · ma Keposi · ma Lawi · ma Lijatuwa · ma Lisensan · ma Losi · ma Lowenki · ma Lomani · ma Lowasi · ma Lowensina · ma Lusepu · ma Maketonija lete · ma Mata · ma Monako · ma Mosijo · ma Netelan · ma Nosiki · ma Osalasi · ma Pelalusi · ma Pesije · ma Piten · ma Posuka · ma Potuke · ma Pokasi · ma Posan · ma Seki · ma Sipe · ma Sopisi · ma Sumi · ma Suwasi · ma Tosi · ma Ukawina · ma Wasikano · ma Wensa