lipu ni li sin ala.
lipu Wikipesija li tawa tan ma Fandom tawa ma sin. o lukin e lipu ni lon ma sin.

This is an old article.
lipu Wikipesija has moved from Fandom to a new site. The current version of this article can be found here on the new site.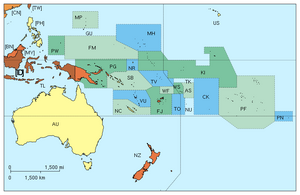 ma Osejanija li ma suli lon telo suili Pasipi. telo ni li sike e ma lili mute.
ona li ma suli lon ma Osejanija. nimi ona li ma Oselija. ma Nusilan en ma Papuwanijukini kin li lon ma Osejanija. ma ante pi ma Osejanija li lili.
ma pi ma Osejanija
[
]
ma pi lawa tan ona
[
]
ma Papuwanijukini

ma Pisi

ma Samowa

ma Solomon

ma Temole

ma Tona

ma Tuwalu

ma Wanuwatu
ma pi lawa tan ma ante
[
]
ma Apanuwi

ma Nowekalitonija

ma Papuwa pi ma Intonesija

ma Polinesija pi ma Kanse

ma Samowa pi ma Mewika